On-Site Residential Weatherization Assessment
The Weatherization Program is an on-site assessment of your residence by professional Cleco-approved contractors to make it more energy efficient and improve your comfort level. There are zero out-of-pocket costs unless you request additional measures not covered in the assessment. You may contact the contractor directly to schedule your assessment or complete the online form.
How do I sign up for the assessment?

Sign up by completing the online registration form or by contacting one of our 2023 Cleco Power Wise Approved Contractors directly. Information submitted via the online form is emailed to a Cleco Power Wise-approved contractor servicing your area. You will be contacted by the contractor directly, in the order received, to schedule the assessment. This program is on a first come, first served basis.

How much does the assessment cost?

There are zero out-of-pocket costs unless you request additional measures not covered in the assessment. Once the assessment is complete, the contractor will let you know which measures you are eligible for. The cost of the assessment is billed directly to Cleco Power. Any items that require payment must be approved by the customer before work can begin.

What if I don't own my home, and I am renting or staying in an apartment?

Customers who own or rent their home can register for an assessment; however, renters must obtain permission from their landlord. If the dwelling is a multifamily home, like an apartment building, there must be five or more on-site assessments scheduled to take place.

What happens after I sign up/when will the assessment be conducted?

Scheduling is based on the contractor's availability and program funding.

The Cleco Power Wise approved contractor will contact you directly to schedule your weatherization on a first come, first serve basis. Please feel free to contact the contractor directly if you do not hear from them in six to eight business days.

How long does it normally take?

The weatherization assessment will vary based on the size, structure and upgrades. It is recommended that you allow for 5-6 hours.

What is included in the assessment?

The on-site weatherization assessment may include:

* diagnostic testing for potential air and duct leakage,
followed by air and duct sealing
* installation of all or some of the following energy-saving products such as:
- blown in attic insulation,
- LED light bulbs,
- Low-flow faucet aerators and shower heads (for customers with electric heating).

An Income-Qualified weatherization assessment is now available. Cleco residential customers who meet the income qualification of 200 percent of the federal poverty level are eligible to receive extensive energy efficiency upgrades at no out-of-pocket costs.

Do I have to be home?

Yes. An adult over the age of 18 must be present during the assessment.

Who are the professional contractors?

The weatherization contractors approved to work on behalf of the program hold current BPI, RESNET or HERs certificates. Approved contractors have submitted required documentation such as a valid W9, tax ID, state licenses and proof of insurance.
Online Energy Store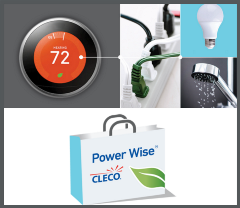 Residential customers can shop Cleco's online energy store at www.clecomarketplace.com, for discounts and instant rebates on energy-efficient products such as "smart" or Energy-Star-certified thermostats, power-strips, LED bulbs and more.
Online Home Energy Audit
By answering just a few questions online, residential customers can receive a customized home energy audit that will highlight which improvements make sense for their home, as well as any Power Wise rebates or financial incentives available to assist with recommended upgrades. Visit www.cleco.com/homeenergyaudit today!
For more Information
Email [email protected] or call 1-833-373-6842 to speak to a Power Wise team member.
Hear from One Customer why Residential Weatherization is Important
Appliance/Device Rebate
When it comes to replacing large appliances or devices, there are many options. Power Wise makes it easy and even offers rebates for purchasing energy-efficient appliances and devices. Select the form that corresponds with the appliance or device you are upgrading.


Smart Thermostat Rebate Form (Smart Thermostats purchased through the Marketplace are not eligible for an additional rebate as the rebate was already received at the time of purchase.)
Energy-saving tips for summer months

Install a programmable thermostat.
Set your thermostat no lower than 78 degrees Fahrenheit, if possible, and use a fan. Using a fan can help the air temperature feel 10 degrees cooler. You also can save three to five percent on your air conditioning costs for each degree you raise the thermostat.
Use heat generating appliances such as dryers and ovens at night when temperatures are a bit cooler outside.
Seal holes and cracks around your windows.
Keep curtains and blinds closed during the day.

Energy-saving tips for winter months

Set your thermostat no higher than 68 degrees Fahrenheit, if possible.

If using a space heater, make sure the plug isn't frayed or torn, as it could start a fire, and keep heaters away from anything that can burn, including papers, clothing and rugs.

Find and seal leaks.

Install a programmable thermostat.

Discounts available at

www.clecomarketplace.com

.

Replace air filters.

Open drapes, shades and curtains during the day to take advantage of solar heat.

Close drapes, shades and curtains at night to retain heat inside.

Use energy-efficient holiday lights.
Learn more about lowering energy usage
Water Conservation
Faucet aerators and low-flow shower heads help maintain pressure and reduce water flow.
Smart Thermostats
A great way to keep homes comfortable year round, and lower energy usage.
LED Bulbs
Switching from traditional to LED bulbs, can lower energy usage 80 to 90 percent.
Beware of Phantom Power
Phantom power describes electricity used by appliances and electronics left plugged in when they are turned off or not being used. Unplug!
Seal your Home's Envelope (Attic, Air & Duct Sealing)
Seal gaps that cause leaks and reduce the efficiency of heating, ventilation and air-conditioning unit.
---