For Louisiana, hurricane season is June 1 to November 30. However, storms can occur at any time during the year. Cleco subscribes to multiple weather services to prepare and help our customers prepare before a storm hits. In addition to this page, Cleco's Facebook page
@ClecoPower
, as well as listen to local media outlets for the latest updates.



Outage Map


To view current outages and estimated restoration times,
go to Cleco's Outage Map
.

Hurricane Zeta
Hurricane Zeta made landfall today, Oct. 28, with winds at 110 mph tying it with the Halloween Hurricane of 1899 in South Carolina as the strongest hurricane to make landfall in the continental U.S. this late in the calendar year. Zeta is the 11th named storm to make landfall in the U.S. this Atlantic Hurricane Season, the fifth named storm to make landfall in Louisiana and the third hurricane to impact Cleco's service territory in less than two months.

Click here to see the number of customers impacted by Zeta. Select "menu" on the outage map.






Safety tips:
One of the most dangerous parts of a storm is oftentimes right after it passes.

Downed power lines and areas of debris should be avoided.

Assume all downed power lines are live and stay away. Report downed power lines immediately by calling 1-800-622-6537 and 911.
If water is getting close to your home or business, turn off individual breakers and then turn off the electricity at the main breaker.

Do not connect portable generators to your electrical wiring and never operate a generator in an enclosed space like a garage.
Cleco Outage Map
Click anywhere on the outage map below to view current outages and estimated restoration times.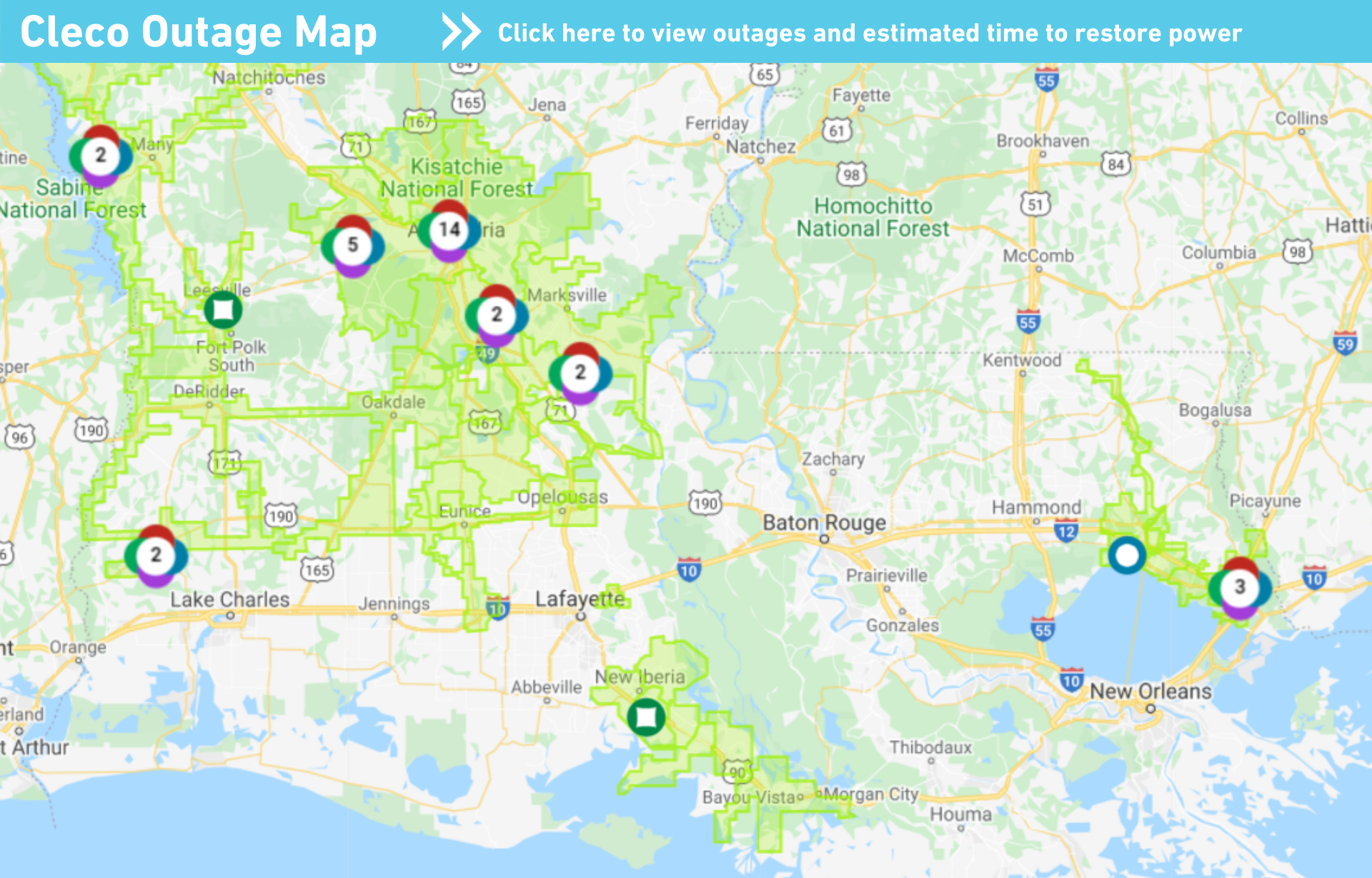 Report an Outage
Online through MyAccount

Text OUT to 25326 (Cleco); text REG to register
Call customer service at 1-800-622-6537
Inside the Storm Center