Cleco assessing damage and restoring power after Hurricane Zeta leaves more than 72,000 customers without power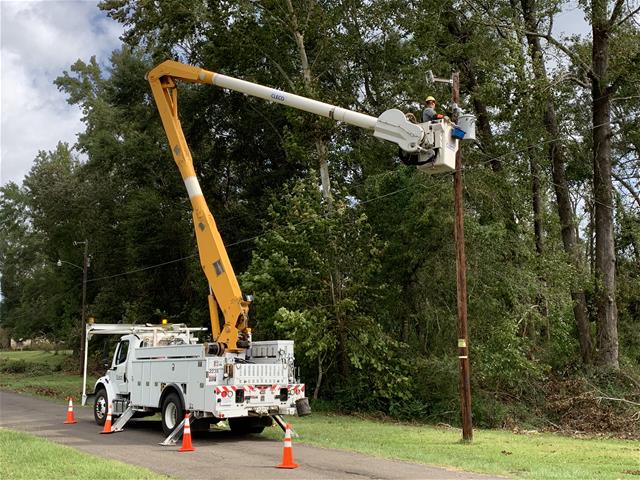 Pineville, La., Oct. 28, 2020 (7 a.m.) – Hurricane Zeta moved across southeast Louisiana last night leaving nearly 73,000 customers in St. Tammany and Washington parishes without power.

As of 6 a.m. today, Cleco had restored power to over 3,000 customers.
"Overnight our crews worked emergency calls and teams worked behind the scenes to begin power restoration by closing circuit breakers and rerouting power. Our overnight work helped us safely restore power to over 3,000 customers," said James Lass, director of distribution operations and emergency management. "This morning our crews are already out working to assess the storm's impact on our system by air using helicopters and drones, and patrolling by land in our trucks."

Zeta came ashore as a strong Category 2 Hurricane. It's the fifth named storm to make landfall in Louisiana, setting a new record for the most named storms in the state during a single hurricane season, and it's the third hurricane to impact Cleco's electrical system in less than two months, joining Hurricanes Laura and Delta.

In addition to Cleco personnel, the company has over 500 contractors to assist with storm restoration.


As work crews begin to clear debris, Cleco reminds customers to stay away from downed trees with power lines. Do not attempt to remove a tree from a power line because the line may not be grounded or de-energized. If the line is not de-energized, this could cause serious injuries or death. Never, ever touch downed power lines.

Below is an overview of how Cleco restores power after a storm:
Safety is a priority in everything Cleco does. Once conditions are safe, workers begin to access damage by land and/or air.

Next, transmission and distribution lines are inspected and repaired.Transmission lines are critical because they carry electricity from the power plants to the smaller distribution lines. Distribution lines carry power to homes, businesses, schools are other facilities.

Power is then restored to critical community services first, such as nursing homes, hospitals, police departments, etc.

Power is then restored to the greatest number of customers in the shortest amount of time until power is restored to all customers who can receive power.
How to report a power outage:
Online through MyAccount at cleco.com.

Call 1-800-622-6537.

Text "OUT" from your cell phone to 25326 (Cleco).To sign up for text message notifications, text "REG" to 25326.