Power restored to more than half of customers impacted by Hurricane Zeta on day one of storm restoration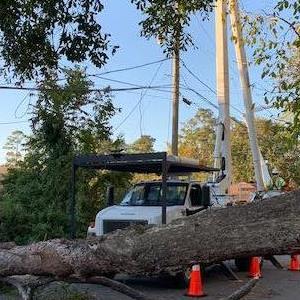 Pineville, La., Oct. 29, 2020 (9 p.m.) – As of 9 p.m. today, Cleco had restored power to roughly 50,000 of the nearly 73,000 customers who lost power in St. Tammany and Washington parishes due to Hurricane Zeta.
"We've made a lot of progress today which is the first day of recovery, and we expect to cover even more ground tomorrow," said Mike Polk, manager of distribution operations. "We always focus our efforts on critical infrastructure such as water and sewage systems, hospitals and medical facilities, and then move to the circuits with the largest number of customers until everyone who can receive power has it."

Cleco reminds customers not to remove a tree from a power line because the line may not be grounded and de-energized. Always assume all downed power lines are energized. To report a downed or burning power line or any other type of dangerous situation involving electricity, contact Cleco's customer call center at 1-800-622-6537 and press option 1.
The company provided estimated times for restoration (ETR) earlier today. Those ETRs are available in the Cleco Storm Center and Cleco's Facebook page at @ClecoPower.