Cleco workforce scholarships help SLCC students continue education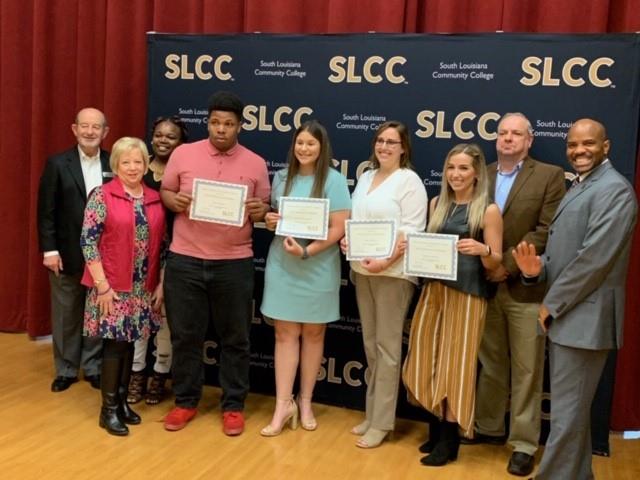 PINEVILLE, La. – Cleco awarded six $1,000 scholarships to students at South Louisiana Community College (SLCC) during a reception at the college's Lafayette Campus on March 2.
"This scholarship funding is part of our commitment to invest in the communities in which we live, work and serve," said Bill Fontenot, Cleco's president and CEO. "By partnering with community colleges like SLCC, we're helping students achieve their goals and helping SLCC educate and train today's workforce and the next generation of leaders."
To qualify for a workforce scholarship, students must be a Cleco customer and resident of Iberia Parish. They also must be either a displaced worker seeking training or meet low income guidelines.
The spring 2020 workforce scholarship recipients include Courtney Alexander, Tammy Johnson, Kennedi Shaubert, Tyran Vallere and Sharon Worick, all of New Iberia, and Blaire Burley of Jeanerette. The students were selected by the SLCC scholarship committee which is comprised of faculty and staff.
The recipients shared their individual goals in essays as part of the scholarship application process.
Johnson, who is studying applied sciences, said, "I have always wanted to be a dentist and knew one day the opportunity for me to go back to school would come, and now it is here, and I couldn't be more excited about the future for me and my family."
Shaubert, who is studying criminal justice, said, "I am the first person in my family to go to college, so I hope to make them proud."

"The impact of these scholarships is tremendous for our students," said Morgen Landry, SLCC development officer. "Financial help from generous donors, like Cleco, relieves the burden of financial debt and keeps students on the path to graduation."

In 2017, Cleco presented three scholarships of $1,500 each to students enrolled in electrical and industrial electronics technology programs at SLCC's T. H. Harris Campus in Opelousas.

Cleco also contributed $50,000 to help establish a Power Line Mechanic program at SLCC's Crowley Campus to train future line mechanics. The program celebrated the graduation of its first line mechanic class on Jan. 24, 2020.