Crews continue efforts to restore power to customers impacted by winter storm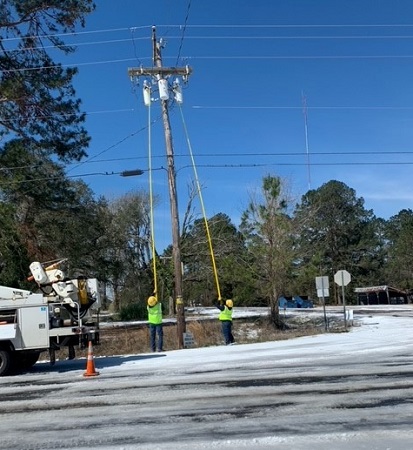 More inclement weather in the forecast

PINEVILLE, La. – Feb. 16, 2021 (12 p.m.) – Cleco has restored power to over 9,000 of the 11,110 customers impacted by the winter storm. More inclement weather is forecasted for tonight and into tomorrow.

"We're asking our customers to be patient and stay safe, as forecasts indicate more freezing rain, sleet and snow are possible over the next few days," said James Lass, director of distribution operations and emergency management.
Safety tips:
Operate portable generators outdoors in well-ventilated areas and plug appliances directly into generators with grounded extension cords. Never plug a generator into a wall outlet.
Assume all downed power lines are live and stay away. Report downed power lines immediately by calling 1-800-622-6537 and 911.
As of 12 p.m., approximately 1,500 customers are without power due to the winter storm.
Winter Storm Power Outages as of 12 p.m.
Acadia – Less than 5 customers
Allen – 5 customers
Beauregard – 20 customers
DeSoto – 6 customers
Evangeline – 38 customers
Grant – 62 customers
Iberia – 373 customers
Rapides – 152
Sabine – Less than 5 customers
St. Landy – 774 customers
St. Martin – Less than 5 customers
St. Mary – 54 customers
St. Tammany – 32 customers
Vernon – 16 customers
Washington – Less than 5 customers

"In addition to winter storm outages, there were some forced power outages today between 7 a.m. and 9:30 a.m. CST due to a directive Cleco received from its regional reliability coordinator, Midcontinent Independent System Operator (MISO), to help protect the power grid and reduce energy demand," said Lass. "We encourage our customers to be mindful of energy conservation."