Cleco employees volunteer at Solomon House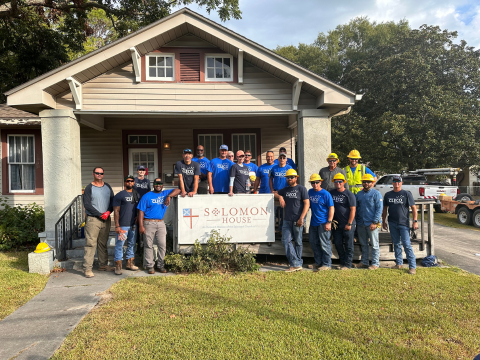 Today, over 20 Cleco employees volunteered at Solomon House, a food pantry in New Iberia, as part of the company's Done in a Day program.
Cleco's Done in a Day program furthers the company's partnerships with charitable organizations across its service territory, as well as provides an opportunity for its employees to get involved in the community. Through the program, Cleco works with non-profit organizations who request assistance with a project that can be completed within one day or a few hours.
While volunteering at Solomon House, Cleco employees pressure washed the facility's exterior, sanded and painted the front porch and wheelchair ramp, painted the interior and exterior of the house, trimmed trees on the grounds and completed other yardwork projects for the Solomon House team. Prior to the day of volunteering, Cleco employees also held a food drive in support of Solomon House.
"It is a privilege to help Solomon House complete these projects to upgrade and beautify their facility," said Madeline Ducote, Cleco Done in a Day program coordinator. "Because of the work of our dedicated employees, Solomon House can focus on the things that truly matter - supporting their patrons."
"The resources that are being donated by Cleco are essential to Solomon House's ability to provide a safe and client-friendly environment for the families we serve," said Ellen Nora, executive director of Solomon House. "Funds that would have been used for these projects can now be allocated to direct services for our clients."