Cleco partners with NAMI St. Tammany for 'Done in a Day'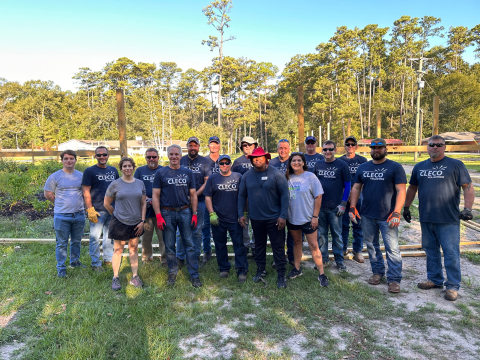 Cleco employees volunteered at NAMI St. Tammany in Mandeville this week as part of the company's new "Done in a Day" program.
Cleco's Done in a Day program furthers the company's partnerships with charitable organizations across its service territory, as well as provides an opportunity for its employees to get involved in the community. Through the program, Cleco works with non-profit organizations who request assistance with a project that can be completed within one day or a few hours.
With help from Cleco employees, NAMI St. Tammany completed several projects on their campus. They installed a new fence, cleaned the exterior of the facility, laid down weed cloth in their new garden and flower beds, transported gravel and dirt and organized items in their donation store.
"Cleco is part of the Covington community," said Madeline Ducote, communications representative at Cleco and Done in a Day program coordinator. "NAMI St. Tammany supports Covington, so we want to support NAMI St. Tammany. This is what the Done is a Day initiative is all about. Cleco is committed to the well-being of the communities it serves."
"Cleco has been an ongoing supporter of mental health on the Northshore, and we appreciate being chosen to be part of their 'Done in a Day' program," said Nick Richard, executive director of NAMI St. Tammany. "Cleco employees worked alongside clients, residents and staff to complete several projects. The work to maintain and expand our community garden increases socialization and therapeutic gardening opportunities and is one of the greatest mental health awareness assets. It provides hope and acceptance for so many struggling with mental health conditions."