Cleco to install up to 40 EV charging stations in St. Tammany Parish in partnership with Adopt a Charger and Northshore Community Foundation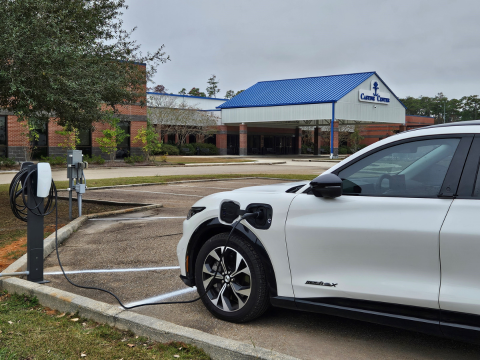 Cleco Power, Adopt a Charger and the Northshore Community Foundation are teaming up to install up to 40 Level 2 electric vehicle charging stations at 10 sites across St. Tammany Parish.
"This is another investment in the communities we serve and part of our vision to support cleaner, all-electric technologies," said Shane Hilton, president of Cleco Power. "Installing charging stations at convenient locations will make it easier for local EV owners to charge their vehicles, as well as attract visitors to the area."
Level 2 chargers can add 10-30 miles of driving range per hour of charging and are popular with site hosts because they are easy to install and attract EV drivers who intend to shop and dine in the community.
"This project would not be possible without the grant funds from Cleco Power and its partnership with the Northshore Community Foundation," said Kitty Adams, executive director for Adopt a Charger, a nonprofit organization focused on accelerating the use of plug-in EVs by installing public charging stations. "With their help, we're investing a total of $250,000 in the Northshore region. The funds will be used to install chargers at popular locations like local libraries, parks, museums, colleges and commercial businesses."
"Our role is to work side-by-side with people, companies and partners who share our mission to create healthy, safe and thriving communities," said Leslie Landry, president and CEO of the Northshore Community Foundation. "This project is about making our communities thrive, so we are proud to partner with Cleco Power and Adopt a Charger."
Adopt a Charger has already installed six charging stations at the first selected site – Pelican Park in Mandeville by the Castine Center.
"The goal is to go beyond charging cars and educate the public on the benefits of driving electric," said Adams. "When people spot an EV on the road, they don't automatically notice that the vehicle runs off electricity. The 'aha' moment happens when they see the car plugged in at places they like to go. From there, they can talk to EV owners and ask about their experience."