Cleco receives 2019 Leaders in Philanthropy Award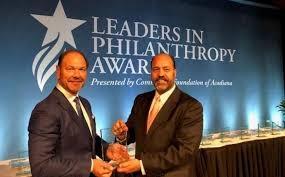 PINEVILLE, La. – Today, Cleco received the 2019 Leaders in Philanthropy Award presented by the Community Foundation of Acadiana (CFA) during an awards ceremony at the Cajundome Convention Center in Lafayette.
Each year, the CFA recognizes and celebrates outstanding individuals, couples and businesses who have made an impact in their community through philanthropic giving.
Bill Fontenot, president and CEO of Cleco, accepted the award.

"It's an honor to be the recipient of this year's corporate award," said Fontenot. "At Cleco, we're committed to giving back and building stronger communities across our service territory."
"Cleco has given its time and resources to improve the quality of life for residents throughout Louisiana," said Raymond Hebert, president and CEO of CFA. "The company's commitment to charitable giving continues to enhance communities and has done so for decades. It is our privilege to honor Cleco with the 2019 Leaders in Philanthropy Corporate Award."
Throughout Cleco's 85-year history, the company has supported programs that benefit education, health and wellness, youth and low income across its 48-parish service territory. In addition to monetary contributions to nonprofit organizations, employees are actively involved in various organizations and routinely volunteer during work hours and personal time.
In the Acadiana region alone, Cleco has contributed nearly $1 million since 2015.
Cleco assisted Louisiana State University in Eunice with a project to light the university's soccer and football fields.
Cleco provided tuition assistance to students at South Louisiana Community College through its scholarship program.

Cleco partnered with Opelousas General Health System and St. Landry Parish School Board to implement the first Well Smart School-Based Telemedicine program at Arnaudville Elementary.

Cleco has supported the Lafayette General Foundation, a nonprofit charitable organization dedicated to providing resources to help advance the mission of Lafayette General Health, which is to restore, maintain and improve health through philanthropy.

Cleco donated $25,000 to help rebuild three historic churches in St. Landry Parish destroyed by arson in 2019.
For more information about Cleco in the community, follow the company on Facebook at @ClecoPower.