Cleco presents Northlake Behavioral Health System with energy efficiency award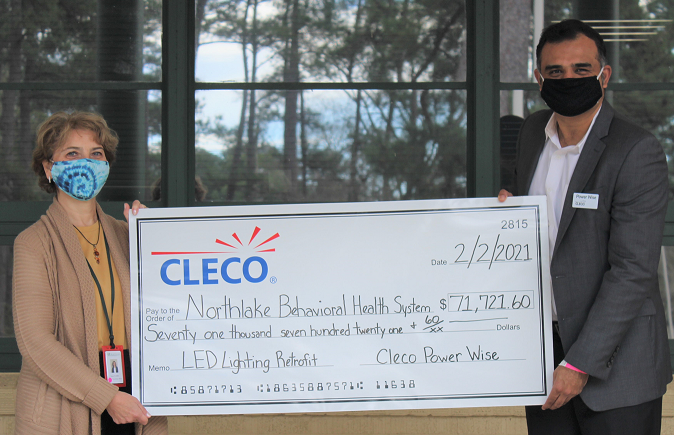 PINEVILLE, La. – Feb. 2, 2021 – Today, Cleco presented Northlake Behavioral Health System with a check in the amount of $71,721.60 for lighting upgrades made through Cleco's Power Wise™ energy efficiency program.

Northlake, a treatment facility for mental health and substance abuse disorders in Mandeville, upgraded the lighting in all patient rooms and offices to LED lighting. With the new LED lighting, Northlake is projected to save 717,216 kWh annually.
Cleco's Power Wise program offers financial incentives to commercial and residential customers to offset the cost of making certain energy-efficient upgrades.
"Cleco customers who switch from traditional bulbs to LED bulbs decrease their electricity usage and become more energy efficient because LEDs use less energy, turn energy into light instead of heat, emit higher levels of brightness and last much longer," said Hammad Chaudhry, Cleco's energy efficiency program manager.

"The energy savings from the LED lighting upgrade will allow Northlake to further expand services for the community in the areas of adolescent psychiatry and addictive disorders such as detoxification, outpatient counseling and treatment programs," said Gabrielle Casebonne, vice president of community and external relations for Northlake Behavioral Health System.

"By partnering with Cleco and taking advantage of the incentives available through their Power Wise program, we were able to upgrade most of our hospital lighting systems," said Marshall Adams, head of maintenance at Northlake Behavioral Health System.