Cleco provides additional restoration estimates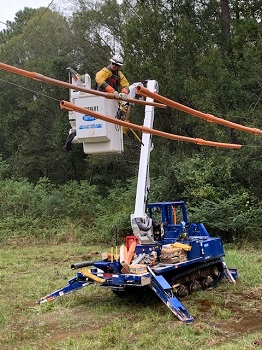 Power restored to 60 percent of customers

PINEVILLE, La. – Sept. 3, 2021 (5 p.m.) – As of 5 p.m. today, Cleco has restored power to over 58,000 of the roughly 97,000 customers in St. Tammany Parish who lost electricity after Hurricane Ida.

Restoration Estimates
Below are estimated times for restoration (ETR). Additional ETRs will be shared, as they become available. Please note that unexpected damage or inclement weather could impact restoration efforts and timelines.


Washington Parish:
North Washington Parish

Franklinton north to the town of Clifton and Mt. Hermon – ETR 5 to 7 days

South Washington Parish

Town of Franklinton south to Town of Enon – ETR 5 to 7 days


St. Tammany Parish:
Slidell
Power has been restored to:

Canulette Road
New Kingspoint subdivision
ETR today, Friday, Sept. 3

Fountain Estates subdivision
West Pinewood Dr.
Beverly Hills subdivision

ETR – Saturday, Sept. 4

Abita Springs
ETR 2-6 days

Hwy. 36 between Abita and Covington, including Robindale subdivision and The Vineyards subdivision

ETR 3-6 days

Level Street and Hwy. 435

ETR 4-6 days

Range Line Road
Wilson Road

Mandeville

ETR Saturday, Sept. 4

Magnolia Ridge subdivision

ETR 2 - 3 days

Golden Shores
Mariners Blvd.

ETR 3 - 4 days
ETR 5-7 days
ETR 8 - 10 days

Monroe Street area
Bigner Road

Covington

ETR – 3 days

26th Ave. and Jefferson Street area – Power restoration ongoing with full restoration expected in 3 days

ETR – 5 to 7 days

Off River Road – Covington Point and River Glen subdivisions
28th Ave. and Tyler Street area
Menetre Drive area
Parts of Oak Alley subdivision

ETR – 5 to 10 days

Oak Alley subdivision
Savannah subdivision
Part of Covington Point

ETR – 8 to 10 days

Flowers Estates
Jahncke Avenue
Jefferson Ave. (around St. Paul's High School)
Pruden Creek subdivision
Simpson Farms subdivision
Pruden Acres
Penn Mill Place
U.S. Hwy. 190 around Covington High School
Hwy. 21 (Military Road)
Area west of St. Tammany Parish Hospital
Hwy. 25 North of Covington (includes Penn Mill Lakes, River Park Crossing, Beechwood Gardens and Normandy Oaks)

Madisonville

ETR – 5 to 7 days
ETR – Saturday, Sept. 4

Subdivisions:

Tchefuncte Trace
Shady Oaks
Belle Terre
Stonebridge
Commercial area around Hwy. 21 and I-12
Dummyline Road and Hwy. 1077 (includes Black River)

ETR – 2 days
Port Louis subdivision
Hwy. 22 west of Madisonville
ETR – 5 to 10 days

Madison Ridge Estates
Pine Creek Acres
Coquille
Belle Pointe

Goodbee

ETR – 5 to 7 days

Hwy. 1077 North of Hwy. 1085 incudes subdivisions, Tuscany West and Spring Lake
Lacombe
Fish Hatchery Road area – 8 to 10 days
Lake Road area – 50 percent today, Friday, Sept. 3, and 5-7 days ETR for remaining 50 percent
Oak Lawn Road area – 8 to 10 days
Hwy. 190 east toward Slidell – 20 percent of customers will be restored today, and the remainder restoration work will occur over the next 5 to 10 days due to multiple broken poles.
Power Outages as of 5 p.m.
| | | | |
| --- | --- | --- | --- |
| Parish | Customers Affected | Customers Served | Percent of Customers Affected |
| St. Tammany | 38,922 | 96,974 | 40% |
| Washington | 797 | 799 | 100% |