Employee volunteer efforts highlighted in special series on Cleco in the community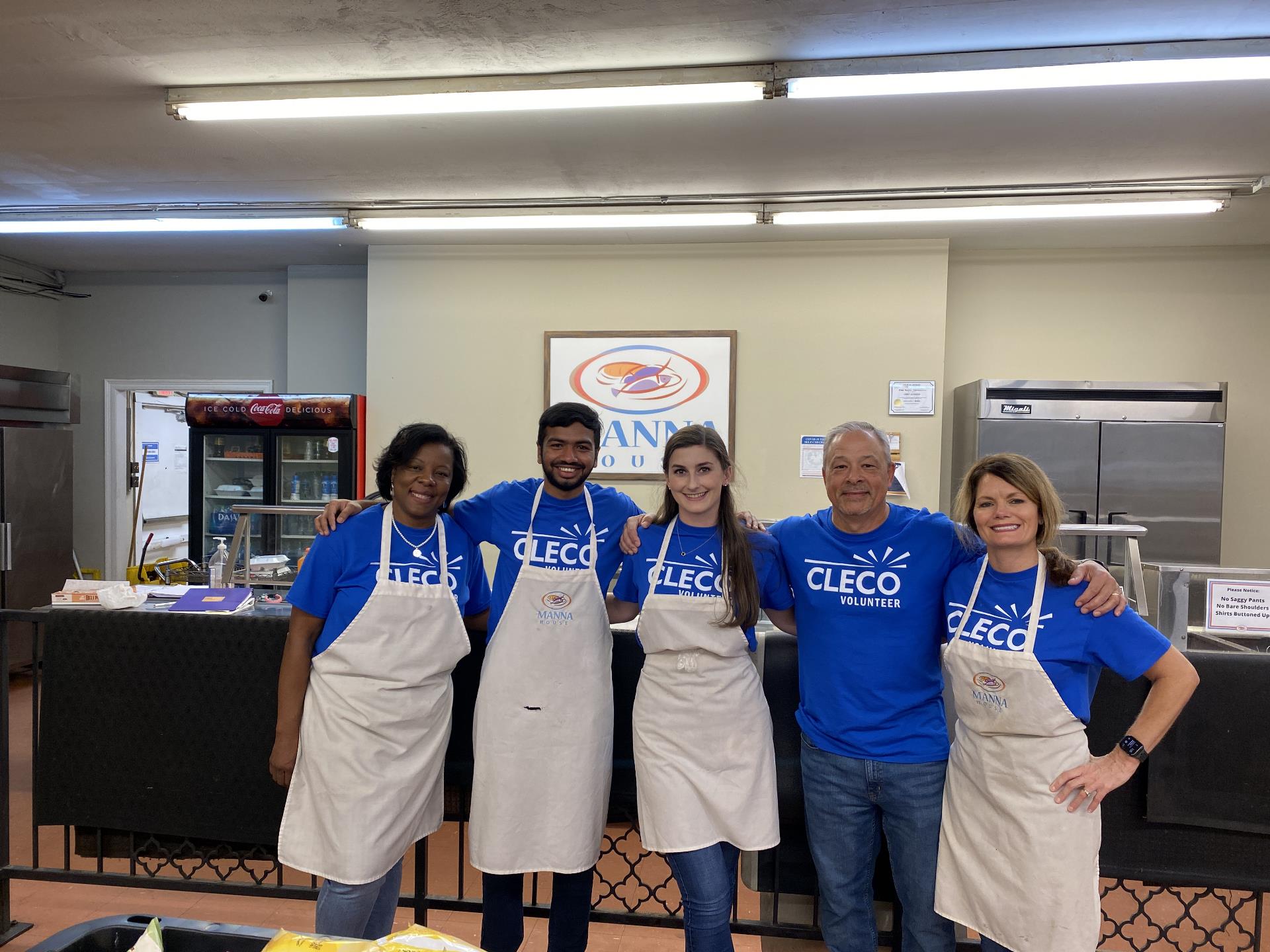 Cleco Employees Express Love of Community Through Food
In Louisiana, food goes beyond a necessity or a cultural aspect - it's a love language. Throughout the year, Cleco employees put on gloves and aprons to ladle out or plate meals, clean up kitchen counters and spread a little love at Manna House, a nonprofit located in Alexandria.
"We never close," said Jessica Viator, Manna House executive director. "We want to ensure everyone is able to have a delicious, healthy meal — no matter their circumstances or background."
The organization's commitment to constantly serving those in need calls for a formidable workforce — and in Cleco, they found a generous volunteer and philanthropic partner.
"I am drawn to the mission of feeding the hungry and eliminating hunger in central Louisiana," said Robbie LaBorde, Cleco's chief operations and sustainability officer. "Cleco has allowed me and other employees the time to go out and do volunteer work and continues to offer support from both a volunteer and financial standpoint." LaBorde has been involved with Manna House for 15 years and currently serves as a board member.
Several Cleco employees volunteer and donate to Manna House every year, from administrative staff to leadership.
"You can imagine how grateful we are for Cleco and all their employees. Cleco's contributions make a difference in a person going to bed hungry or receiving a hot, nutritious meal," Viator said.
Manna House has been a staple in the central Louisiana community for over 30 years, beginning its inaugural efforts by feeding 19 people daily. Today, Manna House's expanded outreach is able to employ two experienced chefs to prepare meals for over 350 people a day, 365 days a year.
"Manna House gives people a place to hope, to belong. Cleco's team efforts, along with the efforts of our other volunteers, make a difference. They make our city a better place to work and live," Viator said.
Manna House is anticipating additional guests during the holidays. Individuals interested in volunteering or donating can visit
https://givetomannahouse.com/
to donate food, time, monetary donations or cleaning supplies. Cleco is committed to supporting and strengthening neighborhoods within its 24-parish service area by facilitating employee volunteerism efforts as a community partner. Organizational priorities include youth programming, health and wellness, low-income, diversity and employee-supported causes.
For more information about Cleco's work in local communities, please visit
https://www.cleco.com/community/event-calendar
or to request support for an organization, visit
https://www.cleco.com/community/corporate-giving
and click "Apply for Funds." The new application year for grants and sponsorships begins Jan. 1, 2023.
For instant news and press releases, follow Cleco on Twitter @ClecoPower.