Cleco employees help welcome back students at Phoenix Magnet Elementary School in support of 'Together Tuesdays'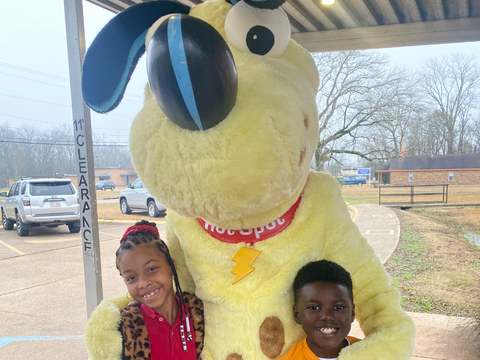 Today, Cleco employees and mascot, Hot Spot, opened car doors, greeted students with a smile, and gave high fives and hugs at Phoenix Magnet Elementary School in Alexandria, La. in support of "Together Tuesdays."
The Rapides Parish School Board implemented "Together Tuesdays" in 2019 to offer innovative, inclusive and creative ways for employers and the community to become more involved with their local schools. These celebrations of unity take place the first Tuesday of every month.
"Cleco is always looking for opportunities to support our local students and schools," said Shane Hilton, president of Cleco Power. "This is an opportunity to make the school day a little brighter for students, motivate them and let them know we care."
"It takes a village to raise a child, so we love having community partners visit us for Together Tuesday," said Jenifer Scott, principal of Phoenix Magnet Elementary School. "Students are thrilled when we have visitors who give them high fives and tell them they matter."
Cleco employees are scheduled to visit a different school every month in Rapides parish for the remainder of the 2023 school year.