Cleco Makes $250K Gift Towards LSUE STEAM Innovation Center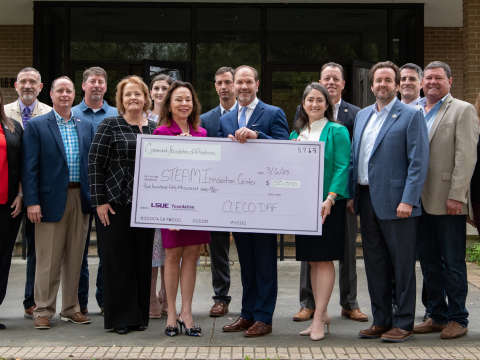 Louisiana State University Eunice has received a $250,000 gift from CLECO Corporation to help support the upcoming STEAM Innovation Center on the campus of LSU Eunice, it was announced on Monday. The donation is the first public contribution towards the state-of-the-art facility.
The investment was made in partnership with the Community Foundation of Acadiana's Donor Advised Fund.
"We could not be more grateful and excited for this partnership with CLECO to help jump start the beginning stages of the STEAM Innovation Center," LSU Eunice Chancellor Dr. Nancee Sorenson said. "Our goal is to make the Center an academic and economic hub for the Cajun Prairie and beyond, serving as a incubator to develop a qualified workforce for companies like CLECO."
The STEAM Innovation Center is the proposed renovation and reimagining of the current Science Building, the first building erected on the LSUE campus in 1967. The new structure will give LSU Eunice and the surrounding area a first-class facility with the classroom and laboratory spaces needed in today's academic environment.
"When we were approached about a partnership for the STEAM Innovation Center, we could not say 'yes' fast enough," CLECO President and Chief Executive Officer Bill Fontenot said. "As a graduate of LSU Eunice, it is important for me personally to ensure that the residents of south central Louisiana have a facility like the STEAM Innovation Center and help spur academic and economic growth in the region."