Word of Grace Church gets new LED lights from Cleco's energy efficiency program, Power Wise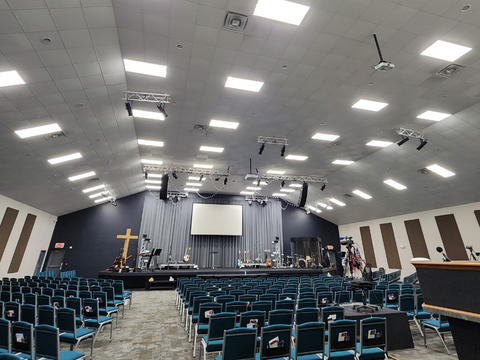 The lights in the sanctuary, classrooms and parking lot of Word of Grace Church, located in Pineville, will last longer, shine brighter and use less energy thanks to Cleco's energy efficiency program, Power Wise™.
Through Power Wise, eligible Cleco customers can upgrade to LED lighting while paying little to no out-of-pocket costs.
Many U.S. homes, businesses, government buildings and churches are switching from incandescent and compact fluorescent bulbs to LED bulbs because they are long-lasting, provide high quality lighting, save energy, require less maintenance and environmentally friendly.
"Because our financial incentives and rebates can cover up to 100 percent of the project costs, Power Wise is designed to help customers, like Word of Grace Church, pay for upgrades that save energy," said Jaci Sewell, manager of energy efficiency at Cleco. "The church made a wise energy choice and is now enjoying the benefits of LED lighting. The LEDs in the church parking lot can also improve safety and security."
"We are thankful for the resources that Cleco invested towards making this house of worship a beautiful sanctuary," said Russell Cobb, senior pastor of Word of Grace Church in Pineville.
Word of Grace received over $24,000 as a financial incentive which was enough to cover lights and labor costs. With more efficient lighting, the church is expected to save 75,753 kilowatt hours of electricity yearly.
Power Wise offers solutions for all types of Cleco customers to offset the cost of select energy-efficient upgrades. Program funding is limited and based on a first-come, first-serve basis. To sign up for a lighting upgrade, visit www.cleco.com/ledupgrades, email
[email protected]
or call 1-833-373-6842.