Cleco begins periodic power outages to 300 Woodworth customers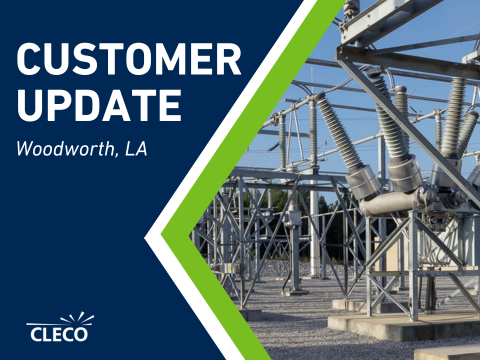 Crews working to set up a mobile transformer by tonight

June 29, 2023 – Pineville, La. – Cleco is notifying Woodworth-area customers that equipment damage and high temperatures are causing power outages.

"Approximately 1,300 customers are served by the company's Coulee Crossing Substation in Woodworth, and about 300 of those customers were without power beginning around 11:30 a.m. today," said Jennifer Cahill, director of corporate communications. "If customers can conserve energy, it will reduce the likelihood of additional power outages."

At the same time crews are making permanent repairs, they are working to set up a mobile transformer at the company's Coulee Crossing Substation.

"The mobile unit will reliably serve our customers in the Woodworth area until permanent repairs can be made to the substation," said Cahill. "Crews are expected to install the mobile transformer this evening at which time we expect all 1,300 Woodworth-area customers to be without power for approximately one hour while the installation work is completed. We will notify customers as more information becomes available."

Some actions customers can take to conserve energy include:
• Delay laundry, washing dishes, and other non-essential uses of electricity until this appeal for conservation has ended.
• Don't allow cool air to escape from the home.
• Leave blinds, drapes and curtains closed to keep sunlight out.
• Raise the central thermostat to 78 degrees or higher, if possible, and use fans.

"If customers decide to use a portable generator, use it safely and do not operate in an enclosed space," said Cahill.