Cleco partners with Alexandria Zoo for 'Done in a Day'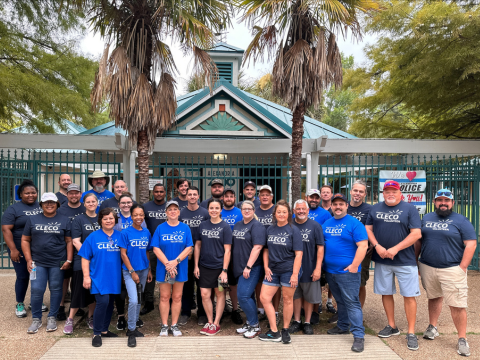 Over 30 Cleco employees volunteered at the Alexandria Zoo as part of the company's new "Done in a Day" program.
Cleco's Done in a Day program furthers the company's partnerships with charitable organizations across its service territory, as well as provides an opportunity for its employees to get involved in the community. Through the program, Cleco works with non-profit organizations who request assistance with a project that can be completed within one day or a few hours.
Over a two-day period, Cleco employees helped test and hang holiday lights at the main entrance and throughout the zoo's grounds for the Holiday Light Safari event which opens in late November.
"Our employees were eager to volunteer when they heard we were going to the Alexandria Zoo for our first Done in a Day in central Louisiana," said Madeline Ducote, communications representative at Cleco and Cleco Done in a Day program coordinator. "We will get to experience firsthand the Holiday Light Safari, bring our families with us and share that we helped make it happen which makes this volunteer day much more special."
"Cleco's corporate support is instrumental in helping us prepare for the annual Holiday Light Safari and provide the best holiday lights show possible," said Max Lakes, director of the Alexandria Zoo. "We are grateful for Cleco's and the help of every employee who volunteers at the Alexandria Zoo. This is one of the reasons why our zoo is one of the best family attractions in central Louisiana."