Cleco partners with Eunice Community Health Center for 'Done in a Day'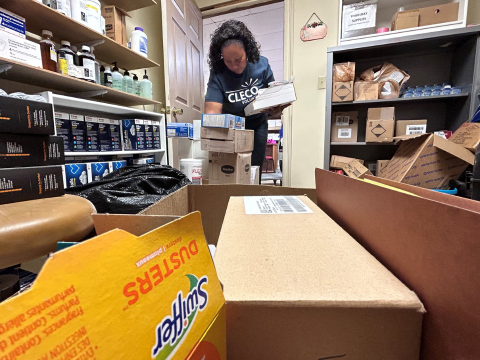 Cleco employees volunteered at Eunice Community Health Center in Eunice, La. today as part of the company's "Done in a Day" program.
Cleco's Done in a Day program furthers the company's partnerships with charitable organizations across its service territory, as well as provides an opportunity for its employees to get involved in the community. Through the program, Cleco works with non-profit organizations who are in need of assistance with a project that can be completed in one day.
"While the Cleco volunteer team was already scheduled to visit the Eunice Health Center, the recent vandalism at the clinic made our visit that much more crucial," said Willie Bergeron, governmental services representative at Cleco and Eunice Community Health Center board member. "The clinic was vandalized twice in a week and suffered a tremendous setback, as supplies and office equipment were damaged and destroyed."
Cleco volunteers helped clean the facility, repair damages and make upgrades to the facility.
"Cleco made our day at the Health Center with their continued support especially in our time of need following the recent break-ins," said Yancy Fontenot, executive director of Eunice Community Health Center. "Because of our friends at Cleco, things are returning to normal. They are always there to support us."